TEEN DRIVER EDUCATION
PLEASE READ & COMPLETE STEPS 1-4 BEFORE 1ST DAY OF CLASS
If You Make the minimum Deposit We Will Reserve You A Seat & You Will Receive Access To Make Payments
Also, Ability To Practice Knowledge Password Protected State Guidebook SEE STEP 2!!
Parent Must Attend the 30-Minute Parent Information Class Prior to Student Attending First Day of Class SEE STEP 4!!
SEE STEP 3!!! Must Go To State Office of Motor Vehicles (OMV) & Obtain a Temporary Instructor Permit (T.I.P.)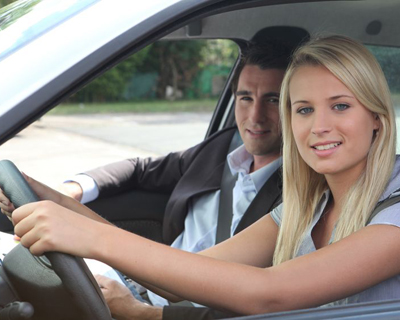 ---
TEEN STEP 1:

DECIDE ON TUITION
This course involves establishing that a driver's license is a true privilege.
STANDARD PACKAGE
Fourteen Nine-Months through Seventeen: Teen Driver Education Course (Learner's Permit Only) consist of:
30 Hours In-Classroom Study & State Written Test
8 Hours Behind-the-Wheel Training (Must Be At Least 15 YOA)
UPGRADE FOR AGE 17
Seventeen Only-Teen Driver Education Course Option (Unrestricted Driver's License) consist of:
30 Hours In-Classroom Study & State Written Test
8 Hours Behind-the-Wheel Training
Third-Party State Road Skills Test
---
TEEN STEP 2:

REGISTER FOR CLASS DATE
For the quickest way to be completely finished with entire course, choose the best class dates for you. However, make-up dates may be made available.
Please choose to Make Payment of at least the minimum deposit. This allows us to activate account, hold transferable seat, allow online pre-practice for the state guidebook.
Lunch Breaks for All-Day Class Times. Student is allowed to leave campus (unless parent says otherwise to the school) to go out to McDonald's, Chic-fil-a and possibly Taco Bell. There is also a refrigerator and Microwave.
---
TEEN STEP 3:

GET TIP @ DMV / BEFORE 1ST CLASS DATE
Parent and Student MUST go to the state Office of Motor Vehicles and obtain the NEW TIP/ Temporary Instructor Permit. This is needed before student is allowed to: a/ take the Final OMV Written Test; b/ begin the behind-the-wheel training; or c/ the State Road Skills Test.
Best to obtain the TIP before the First Day of Class or earlier. Please make this happen ASAP as OMV computers have been know to go down many times and don't forget the H.S. Enrollment Form before school closes for weekends or holidays.
TEEN STUDENT-OBTAIN TIP BY TAKING THE FOLLOWING TO OFFICE OF MOTOR VEHICLES: (14 years to 17 years old) - items to bring every time a minor goes to the OMV
Original or State Certified Birth Certificate (no photocopies) and another primary document or two secondary forms of identification (Please see Policy 6.00 under Section 1 Driver Licenses. For Aliens Temporarily Residing in Louisiana see Policy 6.02

Social Security Card

School Enrollment Form - student must be at least in the 8th grade. This is obtained from the students public or private high school. Home school students use the annual approval received from the state school board.(ASK FOR THIS FORM BACK, AFTER RECEIVING T.I.P.)

Original or Court Certified Custody Papers (if this pertains)

Legal Custodial/Domiciliary Parent/Guardian with their Driver's License or State Identification Card
---
TEEN STEP 4:

PARENT MUST ATTEND BEFORE STUDENT
This Parent Class must be attended by one of the parents listed on the students state birth certificate.
Please see schedule above in the class schedule. If unable to attend that date you must make arrangements and we must agree to another date BEFORE 1ST DAY OF STUDENT CLASS.
By attending the Parent Class, the parent may complete the REGISTRATION PROCESS in lieu of Parent being present on STEP 5. BRING ALL REQUIRED PAPERWORK LISTED IN STEP 5.
---
TEEN STEP 5:

FIRST DAY OF CLASS OR FINAL REGISTRATION
The Driving School Must See and make a copy of the Following Paperwork:
Student with NEW T.I.P.
High School Identification
Lunch or Lunch Money. Student allowed to leave campus by checking themselves out before lunch and checking themselves back in after lunch break.
WiFi available for electronic devices that will be available to use, some classroom study.
NOTE: If parent has already completed the registration process during TEEN STEP4, then the student may be dropped off before class time.
---
TEEN STEP 6:

COMPLETE COURSE AND SIGN CERTIFICATES
After Student has completed the 30-Hours of classroom study
After Student has passed states written test during the above class with at least an 80%
After Student has completed the minimum required 8-Hours Behind-the-Wheel training (MUST MAKE THEMSELVES AVAILABLE TO DRIVE A MINIMUM OF 30 DAYS. NO GUARANTEED FINISH DATES)
After Student has passed the Behind-the-Wheel portion with at least a 70%....
....Then we need the Parent to come into the office to sign and pick-up all paperwork & envelopes that must be presented to the STATE OMV.
---
TEEN STEP 7:

GO BACK TO THE STATE OMV or APPROVED STATE TAG AGENCY
The best price is unfortunately at the State Office of Motor Vehicles to change the TIP to the appropriate license. However, for a minimum fee there are at least two tag agencies in Slidell that you may use. See our office personnel for details.
If student is only allowed to obtain a learner's permit, then they will need to make an appointment with the driving school for when they turn 16 yoa or have had the learner's permit for at least 180 days (whichever is the Longest).
We will give the Family a "Punch List" of all what to bring to the State OMV.
---
TEEN STEP 8:

THIRD-PARTY ROAD SKILLS TESTING
Sixteen Year Olds & Older. After passing the state required Third-Party Road Skills test offered only by your driving school then they may obtain a restricted or unrestricted driver's license depending on their age.