ROAD SKILLS TEST
INTRODUCING OUR THIRD-PARTY STATE REQUIRED ROAD SKILLS TESTING
Email: safetydriven@gmail.com
CALL OR EMAIL YOUR OR YOUR BEGINNING DRIVERS AVAILABILITY
ROAD SKILLS TEST FEES/PER ATTEMPT
(Only Allowed In Our Driver Education Vehicles)
A pre-approved route, using our driver education vehicle with or without any magnets to identify our vehicle. Takes about 20 minutes to complete the route under most conditions.
All student are welcomed, however you MAY BE ASKED PAY FOR THE APPOINTMENT via over the phone, website or by coming into our facility prior to the event date.
TEEN ROAD SKILLS TEST Parent whose name is on the State Birth Certificate must be present upon final application the day of the test. However, the parent may have the option to coming into the facility to sign their portion of paperwork required prior to taking the Teen Road Skills Test. Then, the applicant/student may brought to our facility at an agreed upon date/time by anyone to take the test.
AGE 16:
Applicant Must have had Learner's Permit a minimum 180 days. (check issue date on LP)
Present state birth certificate to us and State
Applicant Must Present State Learner's permit to us and State or Tag Agency
Parent & Parent Name on the State Birth Certificate
Applicant Must have High School Enrollment Form before going to State or Tag Agency*
AGE 17:
Must See Student/Applicant Driver Education Certificate of Completion from any approved driver education school AND Temporary Instructors Permit (TIP)....or
Student/Applicant State Learner's Permit for us and State or Tag Agency
Present state birth certificate to us and State or State Agency (if LP was obtained)
State Birth Certificate provided to us, State or Tag Agency (if LP was obtained)
Applicant Must have High School Enrollment Form for State or Tag Agency (if LP was obtained)
AGE 18 & UP MUST:
Present State Temporary Instructor Permit (TIP) or Learner Permit (LP)
Certificate of Completion for any state approved Driver Education course/school.
Present State Approved Identification (if prior to September , 2018)
We are licensed by Louisiana Department of Public Safety, Office of Motor Vehicles to conduct 3rd -Party Road Skill test for Class D & E type license. The fee includes one attempt at passing the state road skills test, using our unmarked driver education vehicle on our state approved route and the fee approved by state. A passing score of 80% before the applicant can earn the certificate of completion for a road skills test. You should register online and make payment either before calling or after making an appointment by calling: (985) 643-7803 or email the OFFICE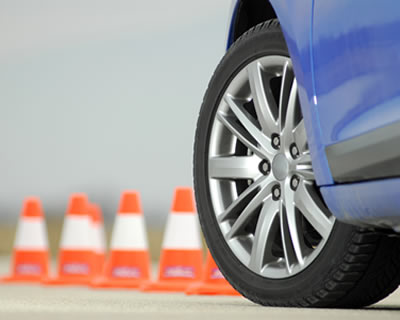 ---
Automatic Failures Include, but not limited to
Run a red light
Incomplete stop at stop sign
Cause an accident that is your fault
Cause an incident
Refusing to obey instructions
Speeding
---
Bioptic Applicants
Same as above
Longer Route
Using Running Commentary for specific requirements:spotting traffic signs, identification of signs, spotting traffic lights, identification of color of traffic lights, spotting other road users: Judgment of accuracy and timing.
Distance behind vehicles for Bioptic licensing.
Daytime Only